H. Douglas Lightfoot Wins Canadian Nuclear Society Award
Author of Nobody's Fuel wins CNS/CNA Education and
Communication Award
(PRWEB) June 2, 2008

H. Douglas Lightfoot, of Nobodysfuel.com, has won the Education and Communication Award for 2008, a joint award from the Canadian Nuclear Society/Société Nucléaire Canadienne (CNS) and the Canadian Nuclear Association (CNA).

"We are very pleased with the positive response our message continues to receive," said H. Douglas Lightfoot. "The DVD of Nobody's Fuel was prepared to communicate to the public the Nobody's Fuel Energy Supply Plan. It is a workable plan to lift poor nations out of poverty, maintain the well-being of everyone on Earth, adapt to climate change, and protect the environment. It leaves no one behind."

"We must have adequate energy to adapt to climate change, whether or not climate is warming or cooling, otherwise the environment will be destroyed," Lightfoot explained. "The trees we all enjoy will be burned to heat people's houses."

The awards ceremony will take place at the evening banquet on Tuesday June 3rd during the Canadian Nuclear Society's 29th Annual Conference, June 1st to 4th at the Marriott Hotel in Toronto, Ontario.

About Nobody's Fuel:

Nobody's Fuel was produced to make people aware of impending energy challenges ahead, and to promote a workable plan to provide the energy the world needs, while ameliorating the carbon emission problem.

DVD title: H. Douglas Lightfoot's Nobody's Fuel -- energy supply is more important than climate change.

About the Canadian Nuclear Society/Société Nucléaire Canadienne, Inc.:

The Canadian Nuclear Society (CNS) was established in 1979 as "the technical society of the Canadian Nuclear Association (CNA)".

The CNS is dedicated to the exchange of information in the field of applied nuclear science and technology. This encompasses all aspects of nuclear energy, uranium, fission and other nuclear technologies such as occupational and environmental protection, medical diagnosis and treatment, the use of radioisotopes, and food preservation.

For more information, see: www.cns-snc.ca.

# # #

- - -

Lightfoot is Nobody's Fuel
BY MARC LALONDE
April 2007
THE CHRONICLE

Baie d'Urfé resident Doug Lightfoot's got an inconvenient truth for you: it's an overdependence on fossil fuels that's going to sap the planet's finite resources before climate change can really even take hold.

Lightfoot, a retired mechanical engineer and a member of McGill University's Global Environmental and Climate Change Centre, has produced and is actively promoting a DVD production called Nobody's Fuel, which details his hypothesis that the world's current reliance on finite fossil fuels will lead us all into ruin.

"I've been studying this for a long time — since the 1970s, actually," said Lightfoot, who has published multiple research papers detailing the consumption and depletion of the world's natural fuel resources. "The reason the United States is so rich is because it has been burning more energy than anyone else."

For instance, Lightfoot reports the United States used more energy in 1850 than 60 per cent of the world's countries use today — and that's before Henry Ford's Model-T revolutionized transportation in the early part of the 20th century.

The solution, he contends, is nuclear energy that is gleaned from uranium in fast-breeding reactors — nuclear fission energy.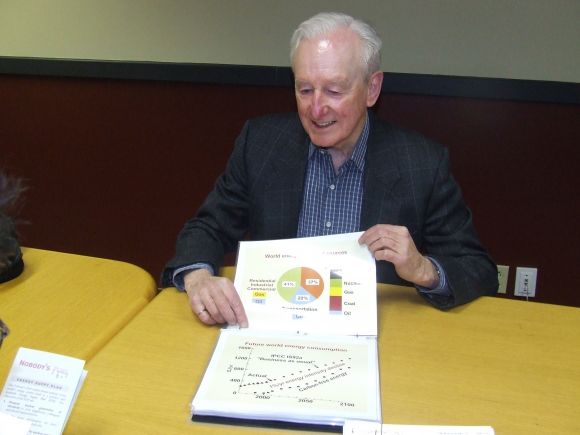 "There has been enough uranium mined already to power the world for another 150 to 200 years," he said. "Using fast-breeder reactors, we could have enough energy to last for tens of thousands of years," he said, adding that one kilogram of uranium holds more energy than 2.3 million litres of gasoline."

Now, he's taking Nobody's Fuel on the road. Lightfoot, who has produced a two-hour DVD detailing his ideas - available on his website, nobodysfuel.com - will speak at the Senneville Curling Club.

The presentation, which includes a viewing of the DVD, is slated for Sunday at the Senneville Curling Club.

The nuclear-fission idea, Lightfoot says, is not out of the financial question.

"It's not untenable from an economic standpoint, and even if the price of uranium goes up, it's still within reason," he said.

The big obstacle is getting scientists and engineers together to help the engineers put the scientists' ideas into practice, he said.

"We have to bring the two fields together to make things work past a theoretical standpoint," Lightfoot said.